Rome, Georgia Local Title Pawning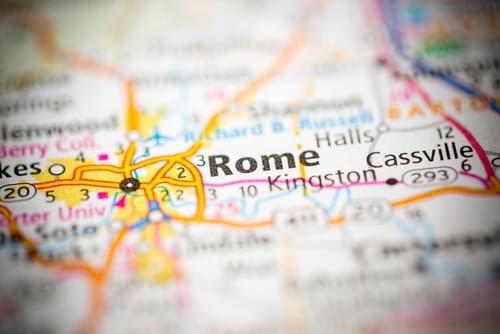 Need a break from the stress of never being quite able to catch up? Facing an unexpected cash emergency? Georgia Auto Pawn, Inc. is just the helping hand you need to get cash amounts up to $15,000 today. Any credit is welcome and you get to keep your car while repaying your title pawn. The approval process takes only a matter of minutes to complete and there are only a small number of items required for you to be approved. We offer the kind of title pawns that Georgia residents are looking for. Be sure to bring your driver's license or valid state ID, your vehicle's lien-free title and your vehicle for a quick inspection. You'll be greeted by friendly and professional representatives who can answer your questions and help you complete the simple paperwork.
Rome Title Pawns Near Atlanta
Fill out our pawn car online request form today to get started, and our friendly store associates will be on the line to explain the process, answer to your questions and get you ready to visit one of our convenient title pawn company store locations in the greater Atlanta area within minutes. Be sure to bring along the required items listed below to make sure you get the cash for your car title that you need as quickly as possible. Ready to get the extra cash you need? Fill out an online request form now!
Required Items:
Driver's License or State Issued I.D.
Lien-Free Title to Your Vehicle
Your Vehicle for Inspection
We are proud to serve residents of the greater Atlanta metropolitan area, from Rome to East Point, and Milton to Peachtree City. Regardless of what your credit history looks like, you could get up to $15,000. The fast cash you've been looking for is waiting at Georgia Auto Pawn, Inc.!


Check Out Some of Our Convenient Local Auto Pawn Locations
Hours of Operation
Monday and Friday from 10:00 AM to 7:00 PM
Tuesday to Thursday from 10:00 AM to 6:00 PM
Saturday from 9:00 AM to 4:00 PM
Closed on Sundays

Georgia Auto Pawn, Inc.
201 W Walnut Ave
Dalton, GA 30730
706-278-6560
Georgia Auto Pawn, Inc.
231 Riverstone Pkwy #101
Canton, GA 30114
770-345-0541
Georgia Auto Pawn, Inc.
639 Cobb Pkwy N
Marietta, GA 30062
770-427-8286
Why Choose Us for Your Rome Title Pawn?
Competitive Rates
All Credit Welcome
Get Fast Cash Today
Keep Driving Your Car