Evans, Georgia Vehicle Pawning Close to You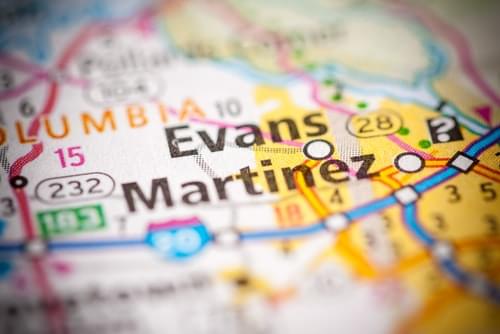 Need some extra cash to settle up on some past-due bills? Georgia Auto Pawn, Inc. wants to help you out with up to $15,000 today with the kind of title pawn that Evans residents are looking for. When all of the traditional ways of borrowing money fail, there's an alternative option that can help you get the cash you need fast. Comparable to title loans, title pawns are easy to get even if you have bad credit. All you need to qualify for an approval is a vehicle that you own, its lien-free title and your driver's license or a valid state I.D. To get started with your title pawn, simply fill out our online request form on this page. We'll call you right back to discuss the details of the approval process and to get you prepared for your visit to our store in Evans. With locations in Augusta, Martinez, Grovetown, and all over the greater Atlanta metropolitan region, you're sure to find a store near you!
Evans Title Pawns Close to Atlanta
If you're fighting to get your life back in order, don't fret. At Georgia Auto Pawn, Inc. we have the emergency cash you need to deal with your financial struggles. Go ahead and fill out our online auto pawn request form and find out how Georgia Auto Pawn, Inc. can help you! By using your vehicle's value, you could receive a title pawn worth thousands. Whether you're facing debt collectors or you're just overwhelmed by too many bills coming in, let us give you a helping hand by lending you the extra cash you need. You can still keep and use your vehicle while you're paying back the loan, and getting approved for an online auto title pawn is as simple as having the required items listed below and showing up at our store for a quick vehicle inspection. In a matter of minutes, you could have all the cash you need to handle all of your financial challenges, so fill out our online request form to get started now!
Required Items:
Driver's License or State Issued I.D.
Lien-Free Title to Your Vehicle
Your Vehicle for Inspection
We are proud to serve residents of Evans, Augusta, Martinez, Grovetown, and the greater Atlanta metro area. No matter what your credit history looks like, you could get up to $15,000. The fast cash you've been looking for is waiting at Georgia Auto Pawn, Inc.!


Check Out Some of Our Convenient Vehicle Pawn Locations Open Close to You
Hours of Operation
Monday and Friday from 10:00 AM to 7:00 PM
Tuesday to Thursday from 10:00 AM to 6:00 PM
Saturday from 9:00 AM to 4:00 PM
Closed on Sundays

Georgia Auto Pawn, Inc.
1752 Gordon Highway
Augusta, GA 30904
706-731-0906

Georgia Auto Pawn, Inc.
3109 Deans Bridge Road
Augusta, GA 30906
706-790-1965

Georgia Auto Pawn, Inc.
2631 Peach Orchard Road
Augusta, GA 30906
706-798-0088

Georgia Auto Pawn, Inc.
2506B Tobacco Road
Hephzibah, GA 30815-7060
706-793-7339
Why Choose Us for Your Evans Title Pawn?
Competitive Rates
All Credit Welcome
Get Fast Cash Today
Keep Driving Your Car