Decatur, Georgia Pawning Titles Near You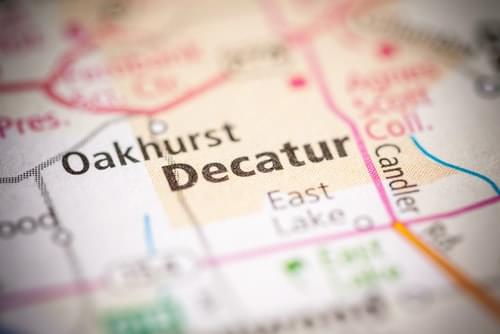 Need some extra cash to deal with unpaid bills, late rent, or a purchase that can't wait? At Georgia Auto Pawn, Inc. we have the type of title pawn that Decatur residents can rely on for cash amounts up to $15,000. Simply fill out our online request form to get started and we'll call you right back to answer your questions, and review your required documents to make the approval process as simple as possible. Speak with one of our friendly associates to find out what you need and allow them to direct you to your nearest location, where a store manager will inspect your vehicle while you complete your paperwork. You could get the cash you need and be on your way with your car in as little as 30 minutes! Our locations in Sandy Springs, Mableton, East Point, and all over the greater Atlanta metropolitan region, make it easy to find a store near you.
Decatur Title Pawns Near Atlanta
Ready to get Started? Just fill out our online request form and find out how Georgia Auto Pawn, Inc. can help you! Unlike traditional loans, a title pawn is easy to get, regardless of your credit history. Because the value of the title pawn is based on the value of the vehicle you own, your credit history is not taken into consideration. The approval process for title pawns is fast, easy, and convenient. All you need are the required items listed below and you're ready to get started. Fill out our online request form now, and let us help you get the emergency cash you need today!
Required Items:
Driver's License or State Issued I.D.
Lien-Free Title to Your Vehicle
Your Vehicle for Inspection
We are proud to serve residents of the greater Atlanta area from Decatur to Sandy Springs, and Mableton to East Point. No matter what your credit history looks like, you could get up to $15,000. The fast cash you've been looking for is waiting at Georgia Auto Pawn, Inc.!


Check Out Some of Our Convenient Locations for Auto Pawns
Hours of Operation
Monday and Friday from 10:00 AM to 7:00 PM
Tuesday to Thursday from 10:00 AM to 6:00 PM
Saturday from 9:00 AM to 4:00 PM
Closed on Sundays


Georgia Auto Pawn, Inc.
5560 Jimmy Carter Blvd
Norcross, GA 30093
770-840-1116
Get Your Cash Now


Georgia Auto Pawn, Inc.
3900 Jonesboro Rd SE
Atlanta, GA 30336
404-363-3356
Georgia Auto Pawn, Inc.
4220 Fulton Industrial Blvd SW
Atlanta, GA 30336
404-696-1885
Why Choose Us for Your Decatur Title Pawn?
Competitive Rates
All Credit Welcome
Get Fast Cash Today
Keep Driving Your Car