Carrollton, Georgia Affordable Auto Pawning Near Me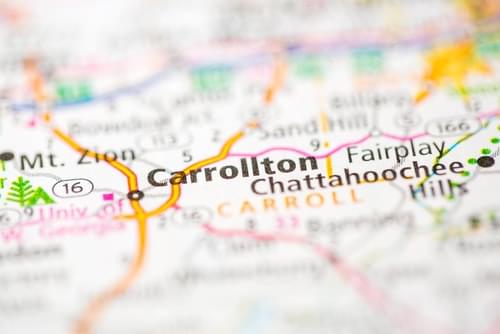 Are you stuck in a situation that's left you empty pocketed and distressed? Wouldn't it be nice to be able to borrow some quick cash when you need it the most? Georgia Auto Pawn, Inc. has the money that you need to get the relief you deserve. With just a few minutes of your time, you can obtain anywhere between $100 and $15,000 with our Carrollton title pawns! To get started, go ahead and fill out our online form by clicking the red "GET STARTED NOW!" button. Once you've filled out and submitted the form, we'll call you back at the phone number you've provided. After speaking with us, grab the simple required items listed below and drive down to see us at your local Georgia Auto Pawn, Inc. store. With locations in Peachtree City, College Park, Mableton, and all over the greater Atlanta metropolitan region, you're sure to find a store near you!
Carrollton Title Pawns Near Atlanta
Are you ready to get started? Then go ahead and fill out our online request form and take the first step towards financial relief today. In a time when it's becoming harder and harder for people to borrow cash, we understand the need for a little extra help when things get rough. Title pawns are a simple way to get emergency cash when you need it the most. If you have a vehicle that's been paid off, you could qualify for a title pawn worth up to $15,000 in cash. That car parked outside in your driveway is a very valuable cash asset and you can use its value to your advantage by getting a title pawn. It just might be on the title pawn car list that can be used for a title pawn. The only way to know for sure is to give us a call today. Regardless of your credit history, you can receive thousands of dollars in same-day cash. Take action and get some financial relief today!
Required Items:
Driver's License or State Issued I.D.
Lien-Free Title to Your Vehicle
Your Vehicle for Inspection
We are proud to serve residents of Carrollton, Peachtree City, College Park, Mableton, and the greater Atlanta area. No matter what your credit history looks like, you could get up to $15,000. The fast cash you've been looking for is waiting at Georgia Auto Pawn, Inc.!


Check Out Some of Our Convenient Locations for Affordable Auto Pawns
Hours of Operation
Monday and Friday from 10:00 AM to 7:00 PM
Tuesday to Thursday from 10:00 AM to 6:00 PM
Saturday from 9:00 AM to 4:00 PM
Closed on Sundays


Georgia Auto Pawn, Inc.
6374 Fairburn Rd
Douglasville, GA 30134
678-715-2940
Georgia Auto Pawn, Inc.
4220 Fulton Industrial Blvd SW
Atlanta, GA 30336
404-696-1885
Georgia Auto Pawn, Inc.
4773 Jonesboro Rd SE
Union City, GA 30291
770-969-8558
Why Choose Us for Your Carrollton Title Pawn?
Competitive Rates
All Credit Welcome
Get Fast Cash Today
Keep Driving Your Car